Meet Dr. Mariah Gibbs
I absolutely love to see how nervous system centered chiropractic care can improve the quality of life and overall wellbeing for families!
Getting Started Early
I was introduced to chiropractic care very early on in my life. My dad is a chiropractor, so getting regular chiropractic care was always a part of life and was the go-to for healing and prevention of illness, injury, and stress. I was thankfully rarely sick as a child, which I definitely credit to regular chiropractic care. I am passionate about bringing that same care to children as they grow up so that they can experience the same freedom fro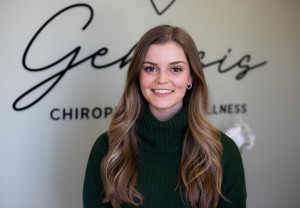 m battling constant sicknesses, injuries, and stress that I did.
My husband and I welcomed our daughter Evelyn into our family in March of 2022. My pregnancy and birth brought another level of understanding and passion for providing excellent chiropractic care to couples who are wanting to conceive, women who are pregnant, and those who are wanting to prepare their bodies for the best birth possible. I saw firsthand how chiropractic care changed my pregnancy and birth for the better, and I want that experience for everyone who is about to welcome another life into the world! By removing stress from the nervous system and balancing the body, pregnancy and birth can be a transformative and empowering experience, rather than a traumatic one. Having a daughter has increased my passion for chiropractic, especially as I see how much it has helped my daughter and my own mental and physical health.
An Educational Journey
I received both my Bachelor of Science and my Doctor of Chiropractic degrees from Palmer College of Chiropractic in Davenport, Iowa. During my time there, I spent as much time as I could participating in and learning from the Palmer Pediatrics Club, learning as much as possible about caring for small children and women at all stages of their pregnancies and the postpartum stage.
I am trained in several chiropractic adjusting techniques, including Diversified, Gonstead, Thompson, Activator, and I am also certified in Webster Technique. I also have additional training in pediatric Neuro-Tonal adjusting through the Pediatric Experience group.
The Practice Today
Today, I am blessed to be following my longstanding dream of creating a space where families can receive excellent, nervous system centered chiropractic care. I hope that everyone who walks in to Genesis feels welcomed and cared for like family, because it is my goal to treat each individual with the same care I would give my own family.
Outside the Practice
When I am not at the practice, you can find me spending time with my family, exercising, taking our dog Nora for a walk, or reading. I always welcome any and all recommendations for new books, and if you know me, you know I can't put a good book down until it's finished!
Start Your Journey Today
Our caring and experienced staff are here to help you reach your health goals. Contact us today to book an appointment!

Dr. Mariah Gibbs | (319) 249-1972